♥~♥~♥~♥~♥~♥~♥~♥~♥~♥~♥~♥~♥~♥~♥~♥~♥~♥~♥~♥~♥~♥~♥~♥~♥~♥~♥~♥~♥~♥~♥~♥~♥~♥~♥~♥~♥~♥~♥~♥~♥~♥~♥~♥~♥~♥
my fanfic recs
some of my favorite fics i've written!
here are some of my favorite daiken fics i've written, categorized into themes (or rather, kinks) so you can easily find something you like! all my fics are hosted on my ao3, where you can find even more than just the ones listed here!
my top picks
what i consider my very best and most essential fics!!
cardiophilia fics
fics pertaining to my most favoritest thing in the whole world -- the heart! nearly all of my fics include heart stuff in some capacity, but these are some with a main focus on hearts/heartbeats...
glow kink & crest gems au fics
fics heavily featuring glowing body parts as a kink -- yeah, i know i'm the only person in the world who has this kink, but it appears in a LOT of my work, especially in the crest gems au.
partner-focused fics
fics that focus on the bond between daiken and their digimon partners!
stuffing/weight gain fics
hey, it's one of my biggest kinks lol. if you're looking for shameless tummy indulgence, this is the place. please only read these if you have this kink, or else it will be pretty weird xD;;
♥~♥~♥~♥~♥~♥~♥~♥~♥~♥~♥~♥~♥~♥~♥~♥~♥~♥~♥~♥~♥~♥~♥~♥~♥~♥~♥~♥~♥~♥~♥~♥~♥~♥~♥~♥~♥~♥~♥~♥~♥~♥~♥~♥~♥~♥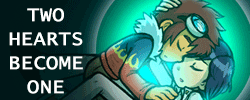 << home